THE INNOVATIVE SYNCHRONISATION SYSTEM
Synchronisation is a major problem affecting the Time and Frequency Synchronisation sector, in particular the critical infrastructures like Broadcast, Telecoms, and Electrical Utilities. The Global Navigation Satellite System (GNSS) system currently utilised is vulnerable to threats like jamming, spoofing and are mostly controlled by the military. To address the identified problems, BLU Electronic has developed an innovative system for time and frequency synchronisation (SITEF).
The Innovation SITEF: Is a robust system, incorporating an innovative receiver completely independent from any actual GNSS systems. The service is distributed through 2 Master stations and 6 auxiliary stations. The number of stations is doubled in order to enhance product reliability – if one station fails the other automatically switches. We have achieved an accuracy level lower than 40n/sec, per regulation and our user's specifications. The system can operate at higher frequency bands, minimising intentional and unintentional interferences from receiver and RF signals. Integrated GNSS (Galileo, GPS, GLONASS) receivers will increase the availability of the system adding different technologies to SITEF system.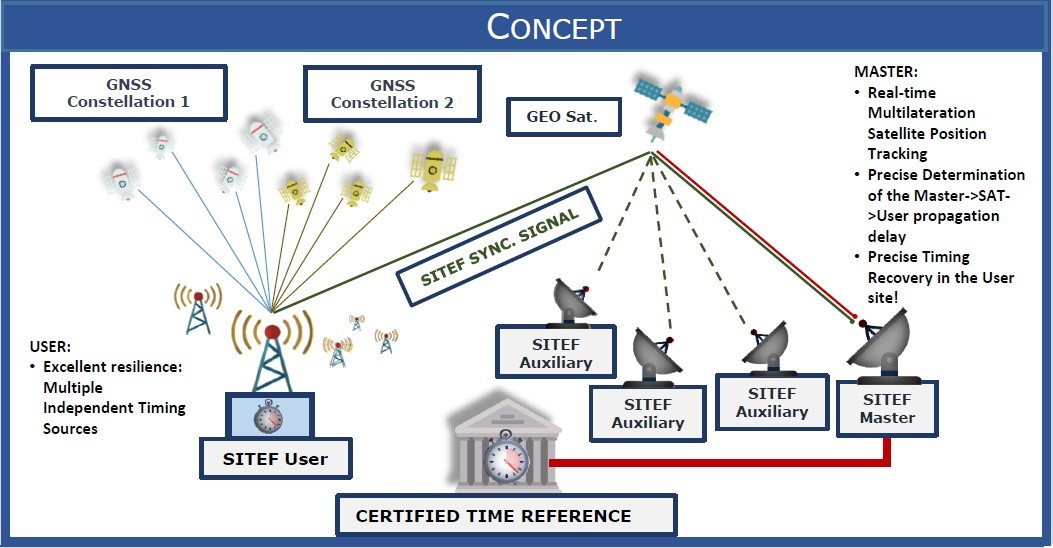 SYSTEM DEFINITION
---
SITEF will allow users to synchronise a network of User Stations (USs) to a common ground clock situated at the Master Control Station (MCS), by means of a geostationary satellite. The main components of the system are the Master Control Station (MCS), the Auxiliary Stations (AUX) and a customer-defined number of User Stations (US).
The master control station (MCS) takes its reference clock of PPS and 10MHz from a certified ground source and disseminates it via satellite to the user stations, together with information on the exact position of the satellite.
The MCS and a set of Auxiliary Stations (AUX) are used to track the satellite with high accuracy to enable it to provide its position to the whole USs network.
At local level, the User Station (US) receives the synchronisation signal and automatically corrects for delays through its exact distance to the satellite. The satellite simply acts as a mirror to the synchronisation signal. This eliminates constraints on the choice of satellite to be used, meaning any broadcasting satellite will be suitable.
SYSTEM COMPONENTS
---
USER STATION :
The User station will consist of 1 - 19 inch sub rack unit.
The sub rack is designed to be customisable depending on the type of end user and their needs.
The complete configuration will accommodate three or four modules where each module must be mechanically independent of each other, in order to be individually extracted.
The modules are interconnected via backplane integral with the sub rack.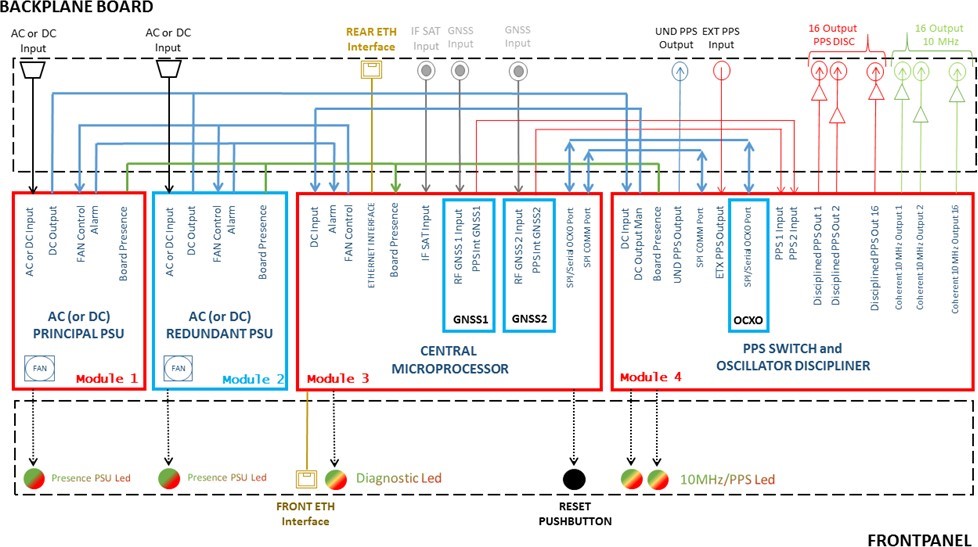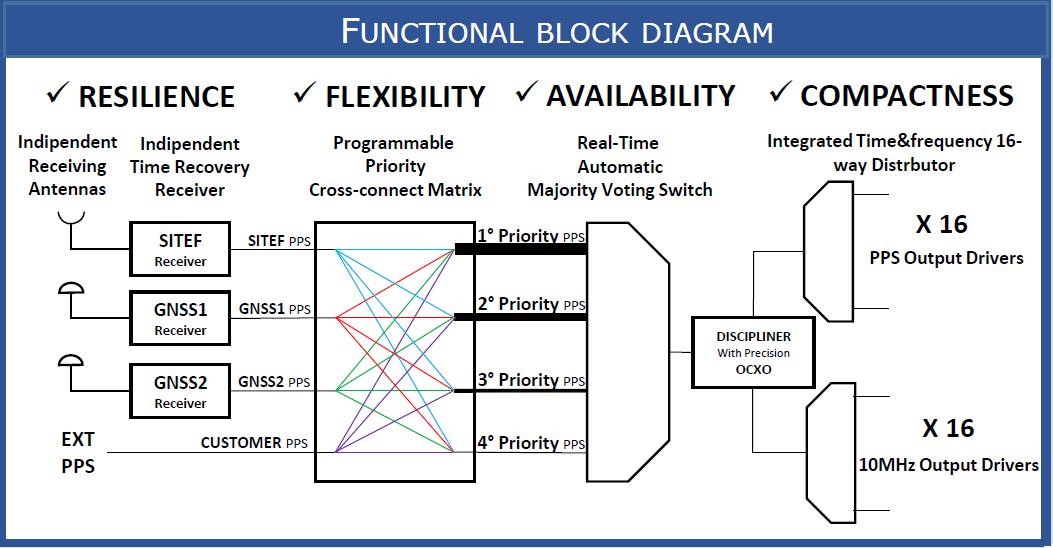 MASTER CONTROL STATION :
Consists of at least 5 -19" sub racks, and we will upgrade it to 8 -19" sub racks.
Like the user stations, the master stations must be mechanically independent of each other.
The master control station has all connections on the rear panel.
AUXILIARY TRANSCEIVER STATIONS :
Installed remotely, their task is to measure the distance between themselves and the satellite. They then send this information to the Master Control Station with the associated geographical coordinates.
SYSTEM PERFORMANCE AND SPECIFICATION
---