---
PRODUCTION & TEST FACILITIES
---
As part of its ongoing growth Blu has invested in a new manufacturing area of 764m2.
The production & test area comprises:
An area of work benches for the hand assembly and test of standard product.
A thermal test chamber with programmable thermal cycling is available for burn-in, test and verification.
A dedicated goods inwards and inspection area.
An area of fully equipped development and test benches.
A dedicated cleanroom area for the assembly and test of aerospace product. This comprises a better than class 100,000 (ISO8) cleanroom environment of 180m2, controlled for both temperature and humidity and with static dissipative floor. It is equipped with degolding and pretinning baths, comprehensive rework soldering station, component trim & preform tool, SMD stencil printer, manual Pick & Place machine, Vapour Phase reflow soldering machine, and all necessary support equipment, such as vacuum oven, fume hood, microscopes etc.
Specific equipments include:
SMD Stencil Printer Machine
SMD Pick-and-Place Machine
Vapour-Phase Reflow Machine
Conducted emissions & susceptibility EMC test bench
All work areas are ESD protected
All operators and inspectors for the cleanroom are ESA certified.
CLEAN ROOM – NEW EQUIPMENT
After a few months engagement, Blu Electronic at now is equipped with a 130 sqm- ISO8 clean room. It is equipped with a full SMT production line, digitally connected to the ERP company system. The first item of the line is the Mycronic MY700 Jet-Printer. It allows high resolution solder paste 3D deposition and, most important, for variable 3D paste quantity (via solder paste file) on the same PCB, useful for critical pads.
The second machine in our full SMT production line is the Mycronic MY300 Pick and Place. It features a frontal setup layout with trays, enabling quicker turnaround of reels and components, and an intelligent feeder system. It represents an optimum setup for space application, with a maximum capacity of 10000 boards/year.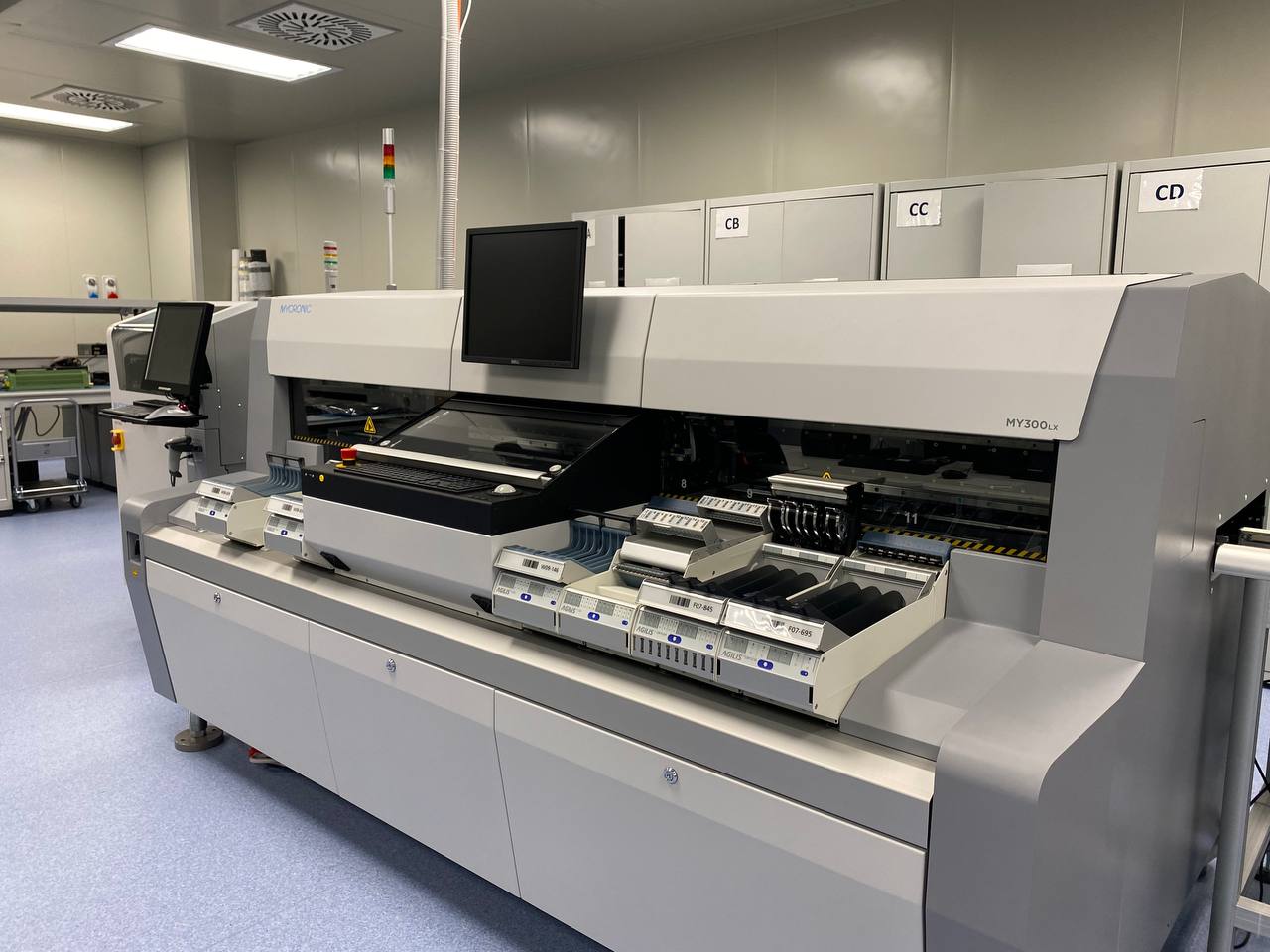 Finally, the PCB reaches the Asscon VP2100 vacuum vapour phase oven. It features vapour phase homogeneous heating with multi-vacuum technology. Vapour phase has always been used in the production process of space-grade electronics, but the most desirable feature of this machine is the multi-vacuum, which allows to eliminate voids generation, increasing both quantity and quality of the electronics assembled by this setup.
Blu Electronic is ready to rent the clean room upon contract to companies, start-up, new realities of the aerospace network, which haven't enough room for specific trials needed.
You can contact Blu Electronic for further information and prices for rent!